Adventurer Ross Edgley is poised to become the first swimmer to complete a circumnavigation of Great Britain.
The 33-year-old, from Grantham, Lincolnshire, will be joined for the final mile of his 1,780-mile (2,864km), 155-day Great British Swim around the mainland by 300 swimmers in Margate on Sunday.
Edgley left the Kent town on June 1, swimming in a clockwise direction, and has not set foot on land since, swimming up to 12 hours a day, including through the night.
He has battled strong tides and currents in cold water, storms, jellyfish and swimming into winter.
His efforts have taken their toll on his body, including shoulder pain and wetsuit chafing.
Edgley's odyssey was compared from the outset to the feat of Captain Matthew Webb, who in 1875 became the first person to swim the English Channel.
But, while more than 1,900 swimmers have since made the crossing, few are likely to follow in Edgley's wake.
His mantra on challenges is that one must be naive enough to start and stubborn enough to finish. He has shown stubbornness in spades.
Edgley had predicted that the swim, with Cornish sailor Matthew Knight supporting from his catamaran Hecate, would take 100 days.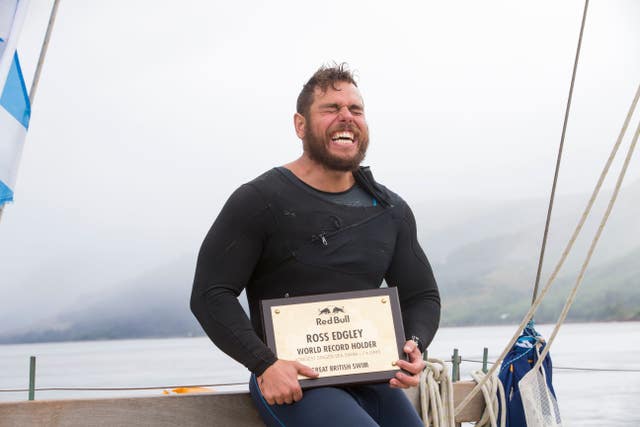 He entered the Guinness Book of World Records on August 14, 74 days into the challenge, for the longest staged sea swim, according to the World Open Water Swimming Association.
But Edgley, then at the Isle of Skye, knew the record would only stand if he completed his journey to Margate. Eighty-two days later, he will.
Edgley has chronicled his journey on social media and weekly vlogs for Red Bull, which is backing the challenge, and he has gathered a large following of admirers, in awe of his success.
He has expended an estimated half-a-million calories. One constant source of fuel has been bananas, with Edgley eating more than 500 on the adventure.
His positive disposition has impressed many, even when swimming through the sewage-like waters of the Humber.
Edgley is already in the Guinness Book of World Records. In April 2016, he completed a rope climb the equivalent height of Mount Everest in 19 hours, two months after doing a marathon while pulling a car.
But he has also experienced disappointment. In 2017, he attempted to swim the 24.8 miles (40km) between Martinique and St Lucia while pulling a 100lb (45.3kg) tree trunk.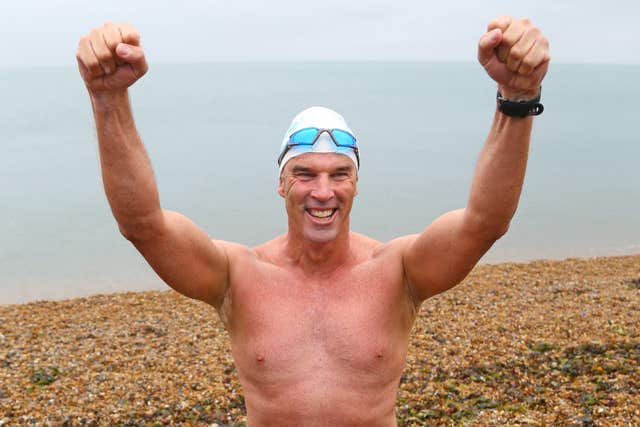 Earlier this year, swimmer and environmental campaigner Lewis Pugh became the first person to swim the length of the English Channel, under traditional Channel swimming rules.
Wearing just Speedo trunks, a swimming hat and goggles, the UN Patron of the Oceans was highlighting ocean pollution.
In 2013, Sean Conway swam from Land's End to John O'Groats in 135 days.
Edgley took 62 for that section of his swim – and then swam the east coast too.