Three protesters jailed for causing "significant" disruption when they clambered on to lorries during a four-day protest outside a fracking site saw members of the public as "collateral damage", a judge said.
Judge Robert Altham told Simon Blevins, 26, from Sheffield; Richard Roberts, 36, from Putney, London; and Rich Loizou, 31, originally from Devon, they remained "motivated by unswerving confidence that they are right" about the perils of fracking.
He explained he could not suspend the 16-month jail terms for Blevins and Roberts, and the 15–month sentence for Loizou, because the length of their stand-offs with police at Preston New Road in Little Plumpton, Lancashire, had "vastly increased" their culpability and the harm caused.
They were all convicted by a jury of causing a public nuisance but a fourth defendant, Julian Brock, 47, from Torquay, did walk free from court after he pleaded guilty at an earlier hearing to the same offence and received a 12-month jail term, suspended for 18 months.
The protest cost energy firm Cuadrilla an estimated £50,000 but the judge said it heavily impacted on local residents and businesses who depended on using the surrounding busy main road.
Jailing the trio at Preston Crown Court, he said: "In this case the defendants caused costs and disruption to Cuadrilla but their other victims were the many members of public who were nothing to do with Cuadrilla… and were viewed by these defendants as necessary and justified collateral damage."
Relatives and friends of the defendants, along with fellow environmental campaigners, later criticised the jail terms.
Blevins's mother, Rosalind, said she did not believe the sentences were "of benefit to society", while Greenpeace UK executive director John Sauven said: "Ministers have changed laws, taken away homeowners' rights and distorted the planning process to make way for the shale industry, yet it's four peaceful protesters that get punished for climbing on a lorry."
Dave Timms, head of political affairs at Friends of the Earth, said: "This historic sentencing is disproportionate and harsh. Our thoughts are with these protesters who acted out of conscience to protect the planet."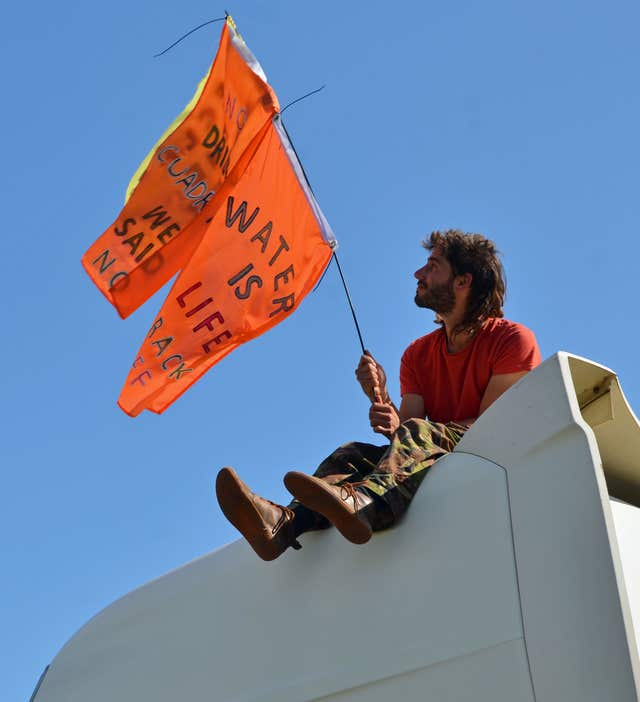 Roberts, a piano restorer, got through a police cordon set up on the morning of July 25 last year as Cuadrilla expected a convoy of seven lorries to deliver specialist drilling equipment.
He clambered aboard one of the lorries and was seen to blow kisses to a police officer as they gathered evidence when filming him.
The other defendants followed him as police ruled out taking them off by force and decided to negotiate.
Loizou, a teacher, came down after 45 hours because he said he was tired, wet and needed the toilet, while Blevins jumped off after 73 hours.
The judge noted that Blevins, a soil scientist, told jurors "without a trace of irony" that he came down because he needed to be at work the following Monday.
While under investigation for the Preston New Road incident, Blevins went on to climb on top of another lorry at a similar protest in Yorkshire.
Roberts came down after 84 hours and told the court it was a Friday and he did not want to spend another week on top of the vehicle.
The court heard Blevins, of Andover Street, Sheffield; Roberts, of Upper Richmond Road, Putney; Loizou, of Platt Lane, Manchester; and Brock, of Ellacombe Church Road, Torquay, all arrived independently of each other at Preston New Road.
After the sentences were handed down the defendants hugged each other and blew kisses to the public gallery before they were led from the dock.
Some supporters in the public gallery began singing what they later described as a "native tribal song of power".
Cuadrilla, which has received Government consent to extract shale gas at two wells at Preston New Road, has said fracking is likely to start in the next few weeks.